Mark Wahlberg's Daily Schedule Is Insane
Along with super-fit stars like Dwayne "The Rock" Johnson, Henry Cavill, and Jason Statham, Mark Wahlberg is right up there as one of the hardest-working guys in the business. The Mile 22 star proved it when he revealed his daily workout routine on Instagram, because it's about as extreme as it gets. The schedule includes multiple workouts, lots of snacks, and 2:30 a.m. wake up calls.

5 Ways Mark Wahlberg Stays Wicked Strong
Wahlberg was taking questions from fans on Instagram, and he was asked about his daily routine and some of the workouts he does when he trains. Wahlberg revealed what a normal day looks like—which assumes he's not shooting a movie or doing another type of event—and it's probably very different from your usual routine.
Wahlberg previously spoke with Men's Journal about his routine, saying that "breakfast is at 3:45 a.m., by 4 I'm training, 5 a.m. is prayers, and I'm golfing at 6." Based on his Instagram, things have changed a little bit, but the early workouts, wake-ups, and golf work remains about the same. Here's the full schedule: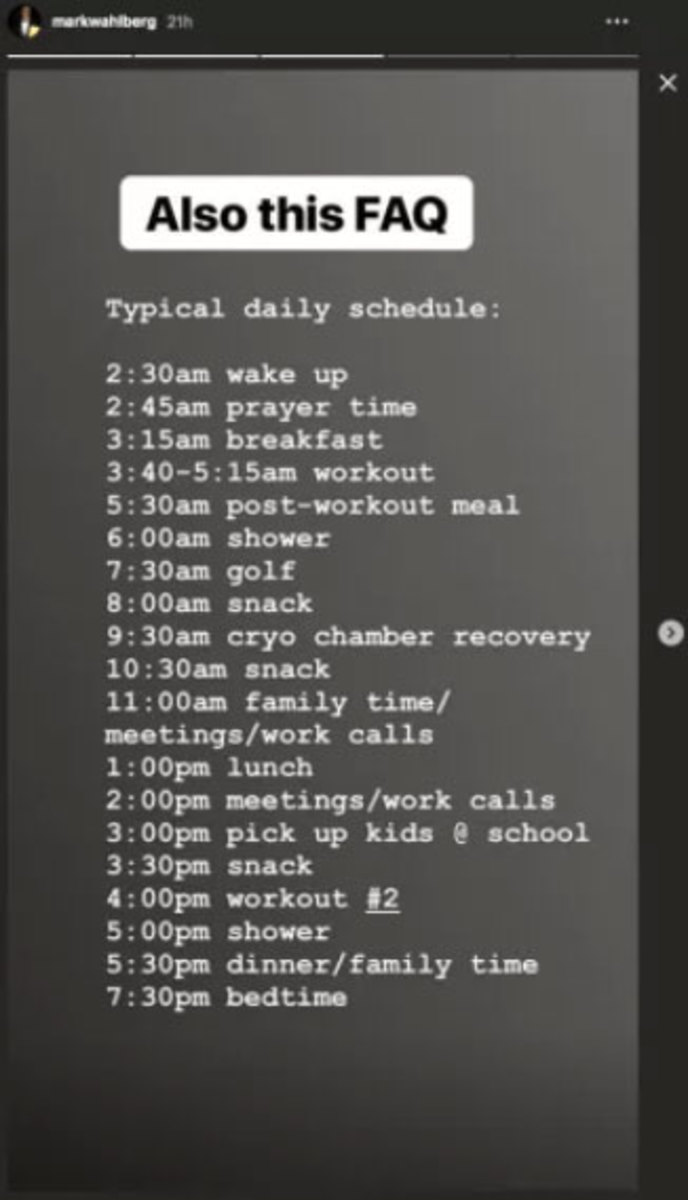 Wahlberg's typical daily schedule:
2:30 a.m. wake up
2:45 a.m. prayer time
3:15 a.m. breakfast
3:40-5:15 a.m. workout
5:30 a.m. post-workout meal
6 a.m. shower
7:30 a.m. golf
8 a.m. snack
9:30 a.m. cryo chamber recovery
10:30 a.m. snack
11 a.m. family time/meetings/work calls
1 p.m. lunch
2 p.m. meetings/work calls
3 p.m. pick up kids from school
3:30 p.m. snack
4 p.m. workout No. 2
5 p.m. shower
5:30 p.m. dinner/family time
7:30 p.m. bedtime
Wahlberg revealed some details about that schedule on Instagram, saying he starts his workouts by listening to ESPN's SportsCenter, and then transitions into music while he's training on the VersaClimber, something LeBron James also loves to use. Wahlberg described it as a "really hard machine to do" and that each day he's been adding 30 seconds to his session on it, and he's now up to 27 minutes.
For his meals through the day, Wahlberg will "start out with steel oats, peanut butter, blueberries and eggs. Then I have a protein shake, three turkey burgers, five pieces of sweet potato at about 5:30 in the morning. Then at 8, I have about 10 turkey meatballs. At 10:30am, I have a grilled chicken salad with two hard-boiled eggs, olives, avocado, cucumber, tomato, and lettuce."

Dissecting Mark Wahlberg's Workouts
"Then at 1 o'clock I have a New York steak with green peppers. At 3.30pm, I have grilled chicken with bok choy. At 5.30/6 o'clock, I have a beautiful piece of halibut or cod or a sea bass, with some vegetables, maybe some sautéed spinach and bok choy."
Wahlberg previously shared his workout with Men's Journal: "My workouts start with RAMP, which stands for range of motion, activation, and movement prep—things like Spiderman stretch and hip bridges, plus foam rolling. Then we switch between bilateral and unilateral strength moves using mostly heavy bands, TRX, dumbbells, and kettlebells. The lower body work includes balance and agility drills."
The post Mark Wahlberg's Daily Schedule Is Insane appeared first on Men's Journal.